Case
The Newtons' New Car Decision: Lease vs. Purchase
Farrah and Sam Newton, a dual-income couple in their late 20s, want to replace their seven-year-old car, which has 90,000 miles on it and needs some expensive repairs. After reviewing their budget, the Newtons conclude that they can afford auto payments of not more than

350 per month and a down payment of

2,000. They enthusiastically decide to visit a local dealer after reading its newspaper ad offering a closed-end lease on a new car for a monthly payment of

245. After visiting with the dealer, test-driving the car, and discussing the lease terms with the salesperson, they remain excited about leasing the car but decide to wait until the following day to finalize the deal. Later that day, the Newtons begin to question their approach to the new car acquisition process and decide to reevaluate their decision carefully.
Critical Thinking Questions
1. What are some basic purchasing guidelines that the Newtons should consider when choosing which new car to buy or lease? How can they find the information they need?
2. How would you advise the Newtons to research the lease-versus-purchase decision before visiting the dealer? What are the advantages and disadvantages of each alternative?
3. Assume that the Newtons can get the following terms on a lease or a bank loan for the car, which they could buy for

17,000. This amount includes tax, title, and license fees.
• Lease: 48 months,

245 monthly payment, 1 month's payment required as a security deposit,

350 end-of-lease charges; a residual value of

6,775 is the purchase option price at the end of the lease.
• Loan:

2,000 down payment,

15,000, 48-month loan at 5 percent interest requiring a monthly payment of

345.44; assume that the car's value at the end of 48 months will be the same as the residual value and that sales tax is 6 percent.
The Newtons can currently earn interest of 3 percent annually on their savings. They expect to drive about the same number of miles per year as they do now.
a. Use the format given in Worksheet 5.1 to determine which deal is best for the Newtons.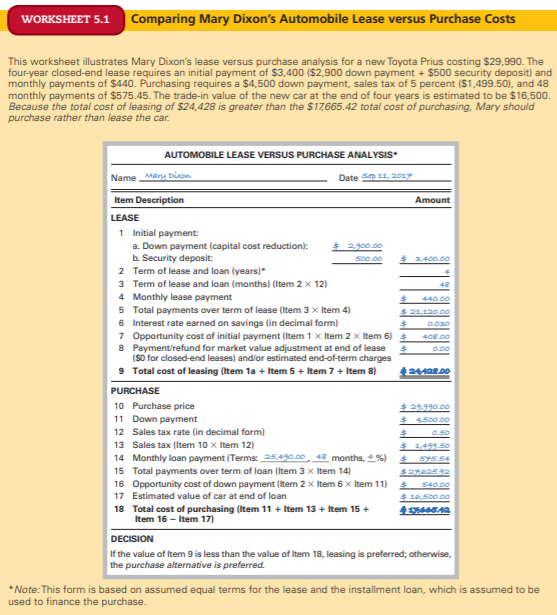 b. What other costs and terms of the lease option might affect their decision?
c. Based on the available information, should the Newtons lease or purchase the car? Why?